Afghanistan Emergency Resource Information
Article 26 Backpack — The Universal Human Rights Tool for Academic Mobility - Available in Dari and English
Quick Summary
Secure your credentials and academic documents with the University of California, Davis Article 26 Backpack system now!

Backpack in English https://backpack.ucdavis.edu/
Backpack in Dari https://backpack.ucdavis.edu/?language=fa
The control of Afghanistan by the Taliban will lead to the destruction of the country's modern system of higher education, especially the equal right to education for the country's women and ethnic and religious minorities.
One area of critical risk is Afghans' access to academic and professional documentation.  It is likely that the Taliban will destroy academic records and limit or deny access to women or dissidents, altogether.
Possession of these records is critical.  In the most recent refugee and mass displacement events, primarily Syria, having these materials has often been the difference between being able to continue education or find professional work and being kept out of university or unemployed.
We encourage all Afghan high school and university students, recent university graduates, human rights advocates, and professionals to use the UC Davis Backpack (available in English and Dari/Farsi) to safely store their materials on cloud-based servers administered and protected by our university, immediately.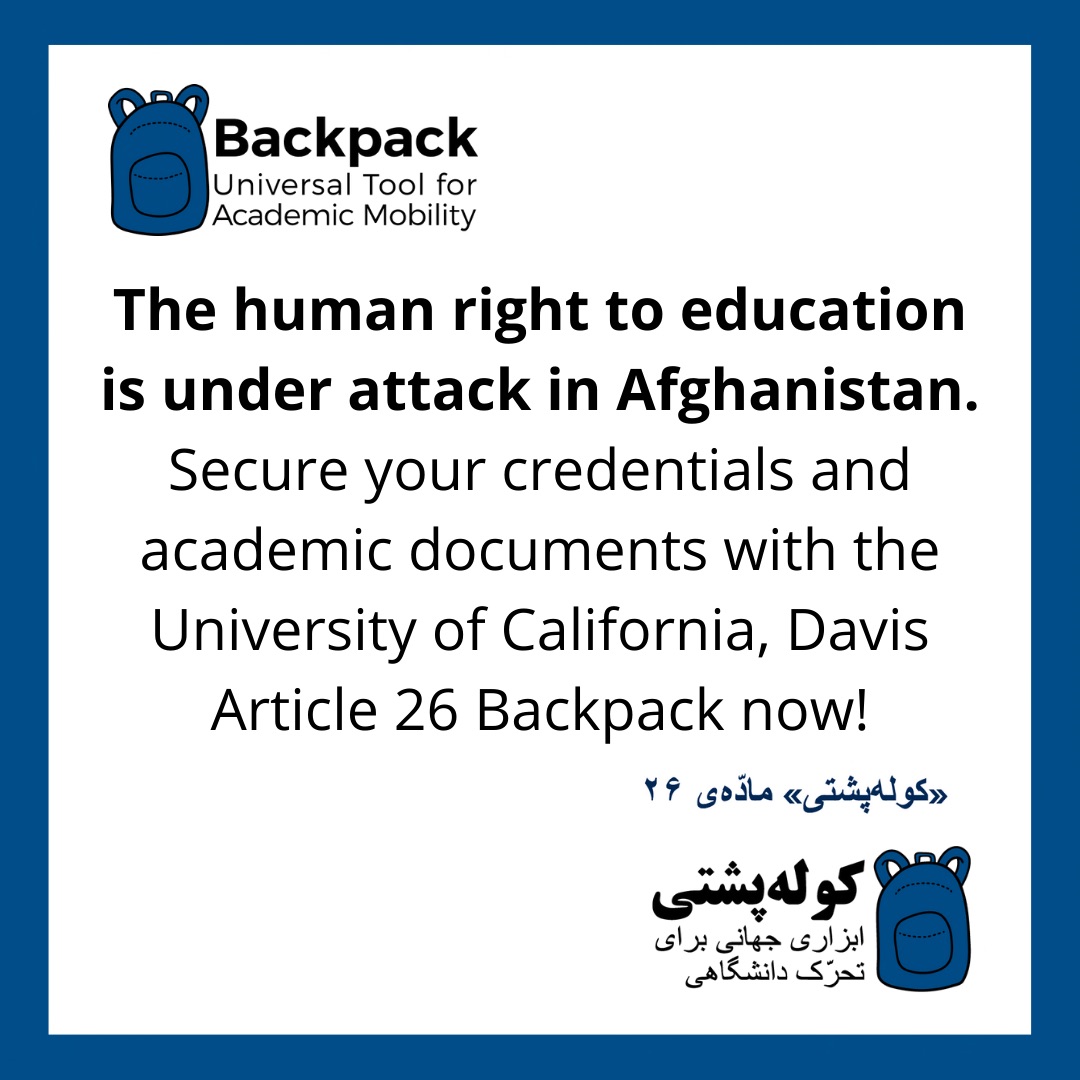 Important information:
Backpack users have complete control over what is in their Backpack.
Once stored these documents are accessible to the user from anywhere in the world.
Users can use Backpack to safely share their materials with universities, scholarship organizations, government agencies and employers.
The documents and materials are only visible to the user and no governments or non-governmental groups can have access without the user's permission.
Backpack users can delete their materials at anytime.
Backpack conforms with all European and Californian digital privacy laws.
We never sell user's data.

 

Backpack is not a scholarship program - it can be helpful in getting a scholarship.
Backpack also provides connection with a growing group of other young people around the world who are using it, from the Middle East and Sub-Saharan Africa to California, to defend their human right to education.
Backpack was developed with the help of the Ford Foundation and is a free service of our university and available to all.
Please do not use Backpack to store private medical information or personal financial data.
حالت اضطراری افغانستان – ماده 26 بکس پشتکی –  وسایل برای حرکت دانشگاهی جهت حقوق جهانی بشر
حالا اسناد تحصیلی و اعتبارنامه تانرا در ماده 26 بکس پشتکی دانشگای دیویس کلفورنیا تامین کنید
بکس پشتکی به زبان فارسی/دری و انگلیسی به دست رس است.
کنترول افغانستان توسط تالبان منجر میشود به تخریب  سیستم فعلی تعلیمات عالی مخصوصا در مسیر حقوق مساوی تحصیلی زنان مملکت و اقوام .و اقلیت های مذهبی
یکی از موضوعات خطرناک دست رسی افغان ها به اسناد تحصیلی و حرفوی است
امکان دارد که تالبان اسناد تحصیلی را کاملآ  ازبین ببرند و یا دست رسی به اسناد را  برای زنان و مخالفین محدود بسازند و یا ممانعت کنند.
حفظ این اسناد قابل نگرانی است. در پنا گزینی دسته جمعی گذشته مثل سوریه (از 2012 تا حال ) این اسناد از دست رسی دور نگه داشته شده است. و سبب این شده است که جوانان از رفتن به دانشگاه و یا کاریابی محروم شوند.
ما به تمام شاگردان افغان مکاتب و دانشگاه ها و فارغ تحصیلان و کارگران مسلکی و طرفداران حقوق بشرتوصیه میکنیم که به صورت فوری بکس پشتکی دانشگاه دیویس را استفاده کنند و اسناد مهم خود را با امنیت کامل آنلاین ذخیره کنند که توسط دانشگاه دیویس کلفورنیا محافظه میشود. 
استفاده کننده بکس پشتکی کنترول کامل به محتویات داخل آن دارد. -
یکبار که اسناد تانر در بکس پشتکی ذخیره کردید در هرجایی که باشید به اسناد تان دست رسی دارید. -
استفاده کننده بکس پشتکی میتواند اسناد خود را با امینت کامل  با دیگران سهیم سازد. -
    محتویات بکس پشتکی تنها برای استفاده کننده آن قابل مشاهده است و دسته های حکومتی و غیرحکومتی بدون اجازه  -
  استفاده کننده آن به محتویات داخل آن دست رسی ندارند.
استفاده کننده بکس پشتکی میتواند در هر وقتی که بخواهد محتویات بکس پشتکی خود را حذف کند و ازبین ببرد. -
بکس پشتکی با تمام قوانین خصوصی اروپا و کلقورنیا مواففت دارد.  -
ما هیچوقت محتویات بکس پشتکی را نمیفروشیم.  -
بکس پشتکی با کمک بنیاد فورد تشکیل شده است و یک سرویس رایگان  از طرف دانشگاه دیویس به دست رس همه است.
بکس پشتکی درعین زمان یک  طریقه دیگر را تحیه کرده است که شما میتوانید اسناد تانرا با دیگران سهیم سازید. و مهمتر از همه تمام جوانان که بکس پشتکی را استفاده میکنند در هر جای دنیا که باشند با هم میتوانید رابطه داشته باشند ؛ از شرق وسطی و سهارایی افریقا تا به کلفورنیا برای دفاع از حقوق انسانی خود در مسیر تحصیل.
برای پشتیبانی از بکس پشتکی لطفآ در لینک تهیه شده فشار دهید.
Media Resources
Read about Backpack in a recent Chronicle of Higher Education article - 8/31/2021
Primary Category
Secondary Categories
Tags